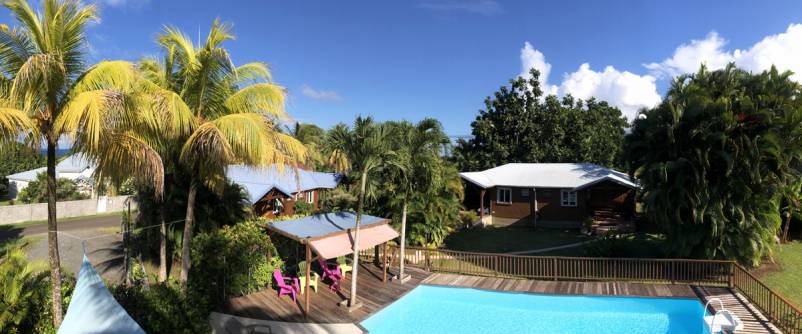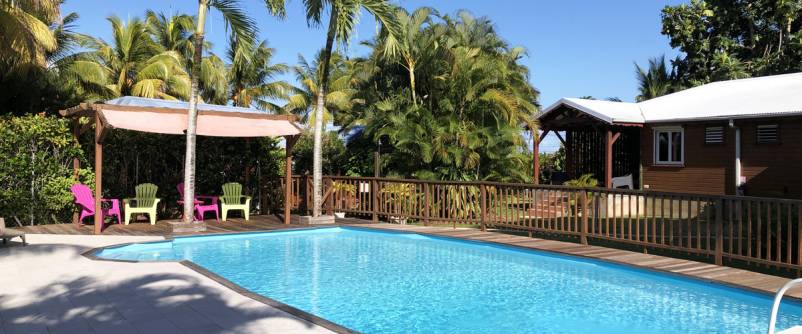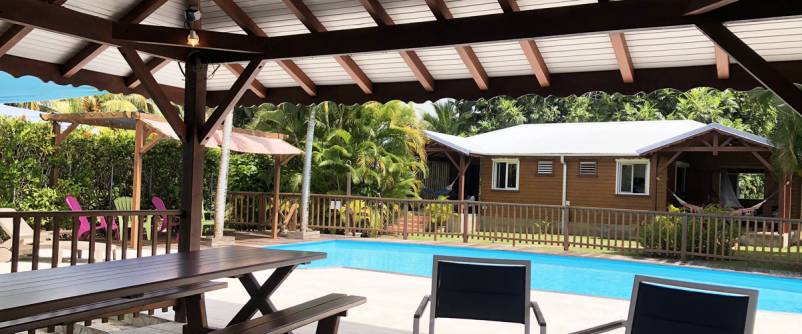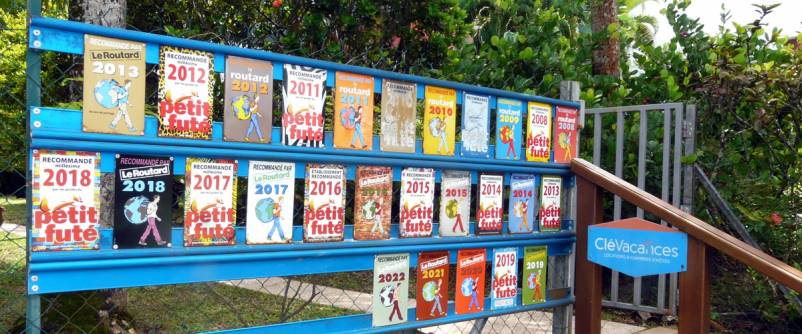 The domain of Lamateliane's cottages
The domain of Lamateliane's cottages
The pool in the middle of the tropical garden
The pool in the middle of the tropical garden
The cottages in front of the pool
The cottages in front of the pool
For your vacation in Guadeloupe, what about renting a cottage at Lamateliane ?
On the heights of Sainte-Marie, between Goyave and Capesterre, the Lamateliane domain is composed
of 4 wooden cottages in the Creole architectural style of the West Indies. The cottages are situated in a lush tropical garden of some 3000 m2 (32.300 sq ft)
with swimming pool : a real safe haven favorable to rest and relaxation. We will be very pleased to welcome you there
for a stay in the French West Indies, combining comfort, calm and independence.

Ideally located, you can easily visit Basse-Terre and Grande-Terre without travelling long distances from your lodge.
The nature lovers will be thrilled : the Soufriere Volcano, the Carbet waterfalls, the island crossing road (Route de la Traversée), the National Park
of Guadeloupe, hiking in the tropical forest, bathing in the rivers, waterfalls, banana and coffee plantations, rum distilleries, botanical gardens,
black sand beaches : right here everyting is united to discover the savage and natural beauty of Guadeloupe.
Recognized by the best guides for more than 10 years and this year again officially "Certificate of Excellence Tripadvisor",
our cottages are also since 2016 classified "2 keys" by the Clevacances label, 1st quality label for holidays rental in France.
A guarantee of comfort and quality for your holidays in Guadeloupe !
The Lamateliane cottages : a charming place for your vacations in Guadeloupe, for families, couples or between friends.
Enter this website and discover our bungalows to get a taste of your holiday rental in Guadeloupe.
---
Quick overview of the outside area of the Lamatéliane cottages.
Find all the pictures of our rentals in Sainte-Marie in the "Photos" section.
---
Find the Gîtes Lamatéliane on Facebook
or you can "like" directly here.
---
Our tenants talk about us.

---
Browse easily on the site
---
The partners of our holiday rentals in Guadeloupe
---