Must do in Guadeloupe
---
Prepare your holiday program in Guadeloupe with Lamateliane cottages.
Our team has selected for you some of the most famous touristic sites of the island, and closest to our holiday rentals
in Sainte-Marie on the Island of Basse-Terre : beaches, views, islets, waterfalls, rivers and forest, Distilleries or sporting activities …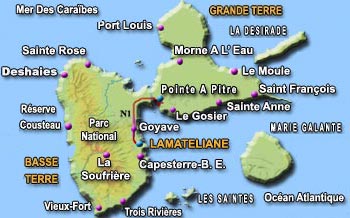 The Guadeloupe archipelago has seven islands :
Basse-Terre and Grande-Terre, Marie-Galante, Les Saintes, La Desirade, Saint-Martin and Saint-Barthelemy.
The "continental" Guadeloupe is composed of Grande-Terre with a very dry climate and arid soil,
and Basse-Terre with a more temperate climate and an abundant vegetation.
Our lodgings are located on the Basse-Terre, in Sainte-Marie, place of disembarkation of Christopher Columbus in Guadeloupe.
Guadeloupe, also known as "the island of the thousand faces" or "the island of beautiful waters" (Karukera),
offers you many possibilities of visits, all more magnificent than the others.
Whether you like hiking (waterfalls, Soufriere, flora, rainforest …), white sand beaches where you can lie down
in the shade of the coconut trees, or even to take the sea to go from islets to mangrove…
you will be dazzled by the resources of our island.
Sporting activities such as diving, canyoning, fishing, jet-skiing, kytesurfing … are legion in Guadeloupe.
And why not go out at night to have a drink, or dance to the rhythm of the islands ?
Clubs, bars or more typical, "lolos" will allow you to find your pleasure.
Start the tour by clicking on the button you are interested.
You can also discover the island by clicking on the "video" menu.
---