The layout of your rental in Guadeloupe
---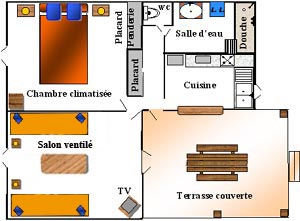 ---
In order to revisit your rental in Guadeloupe, you may click on each part of the plan.
Then, browse with your mouse the mini photos in order to view them or double click to enlarge them.
At Lamateliane, in order to guarantee comfort and intimacy in your cottage, each room is perfectly soundproof
(double glazing, shutters, wall insulation between the neigbouring cottages…)
The cottages are completely independent from each other and circulating from one room to another is easy.
The bedroom is airconditionned and the living room ventilated (optionnal airconditionning is possible).
The bathroom offers a very spacious walk-in shower as well as a washing machine. The toilet is seperated.
The kitchen offers direct access to the terrace by means of a very large hatch.
The covered terrace, a complete living space, is naturally ventilated and equipped for your well-being.
A lot of storage (closets, wardrobe, kitchen furniture) will allow you to store your personnal effects.
Whether as a couple, a family or among friends, our 4 cottages, each one measuring 60 sqm (approx. 646 sq.feet)
for 1 upto 5 persons, will offer you a very comfortable holiday rental in Guadeloupe.
---